About the Sekou Clarke Law Group
Serving the Legal Needs of People throughout Orlando
Since our founding, the Sekou Clarke Law Group has focused our efforts on helping immigrants find their way into the country safely and with minimal complication. We understand the difficulties that come with trying to apply for citizenship, especially if you have been accused of a crime or are affiliated with certain organizations. Let our Orlando immigration lawyer help you obtain the legal help you need to complete the process successfully.
Attorney Sékou Clarke
Sékou Clarke is the founder of the Sekou Clarke Law Group. As an immigrant himself, he has firsthand experience with the U.S. Immigration system, allowing him to provide full-service immigration advocacy. He was urged and inspired to be an attorney by his close lifelong mentor, the Honorable Patrick Robinson, Judge of the International Court of Justice in The Hague, Netherlands. Sekou followed his dream to be an advocate for people whose voice needed to be heard and whose rights needed to be protected. He pursued his Juris Doctor from Florida Coastal School of Law.
Sékou's experience working with immigrants developed his passion for representation and honed a keen sense for litigation. The discipline and patience from Sekou's sports background are evident in his zealous approach to fighting for his clients and his unyielding dedication in ensuring that his clients are adequately heard and compensated. Born in St. Andrew, Jamaica, his work ethic and athletic ability earned him a full athletic scholarship to the University of Florida where he was team captain, 10-time All-American, and helped the Gators to 2 national titles in Track and Field.
Sekou is Licensed to practice in all Florida State Courts and he is a member of the American Bar Association, Florida Bar Association, and Orange County Bar Association
Attorney Natalie Quinonez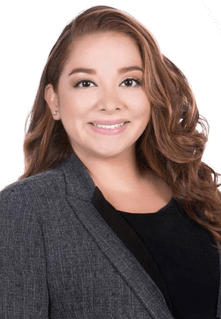 Natalie Quinonez graduated from Barry University School of Law in 2011. She is admitted to practice in the state of Florida. Her personal connection with Immigration Law comes from her own parents' journey, immigrating to the U.S. from South America. While at Barry Law she worked as a translator for the Immigration Clinic. Now, Ms. Quinonez attends immigration courts all over the United States, using her experience and passion to help those seeking asylum, as well as other paths to obtaining a lawful status. Her work in the Personal Injury legal field started in 2005 while she was obtaining her bachelor's in political science from the University of Central Florida. In 2010-2011, Ms. Quinonez gained valuable knowledge as she clerked for Felony Criminal Judge Marc L. Lubet of the Ninth Judicial Circuit Court of Florida.
Ms. Quinonez is bilingual, with proficient Spanish speaking and writing ability. She currently serves as President Elect for the Hispanic Bar Association of Central Florida where she has been a board member for the pasts three years.
Attorney Jaime Aird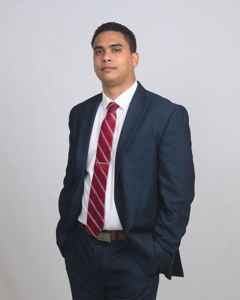 Jaime brings to the Sekou Clarke Law Group a tenacious spirit for litigation and trained eye for detail. Having attained his Bachelor of Business Administration at the Florida International University and his Master of Business Administration at Nova Southeastern University, Jaime set his sights on the law. At the Florida International University College of Law Jaime was exposed to varies aspects of the law through opportunities to assist others in the FIU pro bono clinic, where he spent countless hours giving back to those who could not afford to pay for legal services.
After graduating Jaime entered into the legal world as a prosecutor, first at the West Palm Beach State Attorney's Office, then later at the Miami-Dade State Attorney's Office. After learning, training, and fighting for the State of Florida, Jaime decided to enter private practice.
Jaime took all of his training and experience and started the Law Offices of Jaime A. Aird, P.A., where he practices criminal defense, driving under the influence, immigration and personal injury in South Florida.
How the Sekou Clarke Law Group Can Help You
Our firm has extensive experience in all areas of immigration law, as well as personal injury and business litigation. We help clients who were involved in accidents, need citizenship or family-based visas, or are facing deportation. You are not alone in this fight. Contact our firm today to schedule your initial case evaluation and get started building your case.
Dial (407) 269-8774 now and schedule your initial consultation.